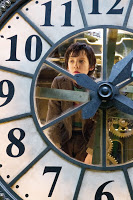 During the '80's when everyone else was buying CD players and selling off their turntables at garage sales, I was a holdout for records. I didn't want the tiny, frustrating to open CD's. And I also didn't want to start my music collection all over again. I mean, I had been through it all before with 8-tracks and cassettes. But Albums were my favorite and they had lasted through the switch over with both types of tapes so I figured they weren't going anywhere. The last one I bought before I finally gave in was Whitney Houston's I Wanna Dance with Somebody. Loved it, loved her. Now I find her a bit scary.
Another holdout for me has been 3D movies. I remember going to them over 20 years ago with the paper glasses that never stayed on and tickled my nose. I never even saw Avatar in 3D. Even though everyone was saying, "Oh you have to see Avatar in 3D. It's soooo much better," I never gave in to the 3D phenomenon. That is until last Friday night. I, along with two adult friends and their combined five children, went to see Hugo in 3D. It was also available in 2D or regular D, whatever it is called, but we opted for the 3D because it was showing at the best time.
It seems that a high percentage of recent movies are available in 3D and I think I know why. It's not because it makes it so much more exciting. No, it's because they charge an extra $3.50 for the luxury. After two and a half hours of Hugo in 3D all I can say is, "I want my money back."
The movie was cute and all but not worthy of spending my evening wearing stupid, annoying glasses just to see the images in a way that makes me want to reach my hand out and touch them. Which, by the way, brings about teasing from those around you if you do. I could see it if it was an action packed movie, but it wasn't. Hugo is basically a movie where a little boy goes around winding up clocks in a train station. Well, actually it's more than that but I don't want to ruin it for anyone.
And, since I know it's just a movie and not real life, I don't really need the added 3D effect. It doesn't enhance my movie going experience enough to make me want to spend an additional $3.50 to an already expensive evening, what with the markup on popcorn and coke.
And why the glasses? On Survivor the other night, they showed the remaining tribe members a phone with 3D you could see with the naked eye. So, if technology allows it on a tiny phone, why not on a big movie screen?
Question: 3D or regular D?