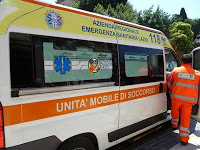 Italy was so "Italy" that I am planning another trip back.

One of the main reasons I want to return is because I missed quite a bit of it this time around.

You see, I am a bit of a klutz.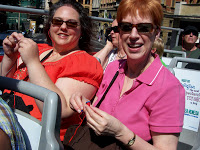 Amy and Linda on the
sight-seeing bus
We had a whirlwind first day busing around Rome and visiting The Vatican.

Dinner that night was lasagna and ravioli, caprese salad (my new favorite thing in the world) and chocolate soufflé at a restaurant in the Piazza Navona.

We also had wine that cost 35 Euros which we later found in a market for only 6.90 Euros.

Can you say markup?

We chose that particular restaurant because Amy liked the red checkered tablecloths.

Afterwards we strolled through the streets and got lost in the ambiance of Rome.

I was looking forward to many more "getting lost" moments on this trip.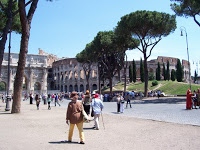 The Colosseum
So I began our second morning with great anticipation.

We arrived at The Colosseum and I was so excited to see where the Gladiators did their thang (Love me that Russell Crowe, I do!).

As we were walking around the exterior to get to the entrance, we came across some 3 ½ foot statue-less pillars.

Several people were standing on them being mock statues.

Wanting in on the fun, I ran over to hop on top of a pillar in back.
Well, being a chubby 50 year-old broad, just "hopping up" wasn't exactly going to happen.

Not wanting to scratch my knees I thought I would just stretch my foot up and then hoist myself the rest of the way; which I did very successfully.

So successfully that I kept going once I reached the top.
As I was headed over the side my first thought was, "Oh, this is going to be so embarrassing!"

As I saw my backpack go flying and realized I was going down head first my next thought was, "Oh my, this is going to hurt."

Then when my right leg came down to take it's next step my last thought was, "Oh crap, I've just ruined the trip."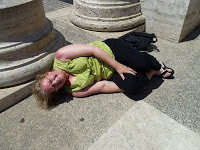 The Colosseum people
wouldn't let me move
As I laid there on the ground, clutching my knee to my chest, caring English speaking (thankfully) strangers gathered around me and asked if I needed anything.

"I need my friends," I said.

Eddie appeared on my left and I reached up and grabbed his hand; possibly breaking one or two of his fingers.

Being a former emergency room supervisor he questioned me, "Dana, I see that you are holding your right knee.

Is that where it hurts?"

How professional.

"It bent backwards when I fell," I whimpered.

"Ooooo," went the crowd.
As I struggled to stand up a woman from inside the Colosseum motioned with her hands and hollered something in Italian which we assumed meant, "No, stay down.

I work here and am sending someone out to help you."

Okey-doke.

A few minutes later a nice man came out and helped me stand up.

As I sort of stood, a strange sensation came over me.

I wouldn't exactly call it pain, even though it was painful.

I would have to label it an unpleasant, un-natural, uncomfortable, never want to feel again feeling.

Normally knees move from a bent knee to a straight leg position.

I now know what it feels like for your knee to move completely side to side.

Not pleasant, natural or comfortable.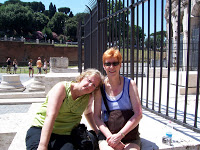 Waiting for the ambulance
A little screech from me caused them to call an ambulance.

My brain went straight from, "But I don't have my Kaiser card," to, "But I have Linda."

Senior Vice President, Chief Operating Officer, Linda.

"Not to worry," were her comforting words.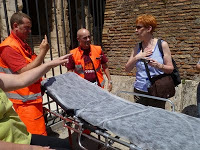 Linda trying to communicate with
the ambulance drivers.
One looks like he is flipping
her off.

The ambulance arrived and out jumped three very cute Italian heroes. Whee!! They assessed my knee and concurred I needed to go to the hospital. So far none of the Colosseum workers or the ambulance drivers spoke English. Amy was busy looking up words being thrown at us in our Rick Steve's Italian travel guide book. When I heard, "Uno, Due, Tre," I realized they were counting to three to switch me from the pillar to the gurney. Unfortunately, I reacted to it too early and went up on due and came down on tre only to hear three really cute ambulance drivers go, "Umph," and drop me back down on the pillar. My first thought confirmed; it was going to be so embarrassing. Well, the biggest ambulance driver laughed and pushed his partners aside and picked me up himself and plopped me safely on the gurney. That ride alone was worth the price of the ticket.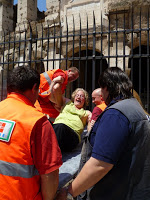 Umph!

Since Linda was going to ride with me in the ambulance, I told Eddie and Amy to go ahead and see the Colosseum.

Being good friends they of course hopped in a taxi with the words San Giovanni Hospital given to them by the Colosseum representative.

Sadly, it got lost in translation and the taxi driver took them to an Opera House.

"Ospedale, Ospedale," Amy kept saying.

They eventually made it to me.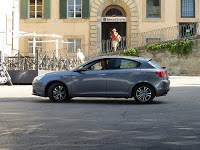 Eddie and his Alpha Romeo
It was very surreal seeing the Colosseum out the ambulance windows as we drove away. I just kept laughing, thinking this isn't happening. But indeed it was. Five-ish hours later I was crammed in the backseat of a little Alpha Romeo sports car (Eddie was so cool driving that ride) to travel to Cortona, leg sprawled across Linda the entire way. Turns out I did something to my ACL when I hyper-extended my knee. At the time I wasn't sure what that meant. Now I do. It means lots of physical therapy and then in a year or so I should be good as new.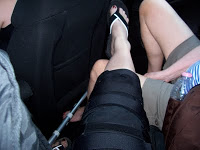 Poor Linda
Many other crazy things ensued during those five or so hours, but suffice it to say, "I LOVE MY FRIENDS."

I don't know what I would have done without them.

Maybe I'll cover those stories in another blog post someday.

It will make you laugh and appreciate your friends as well.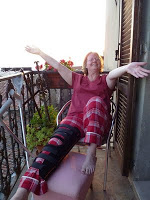 My perch for the week
in Tuscany
I spent the next 7 days in our Cortona home not able to get out because I couldn't maneuver the stairs or hills of the town. So, Assisi, Florence and the rest of Tuscany is being saved for me on another trip. But I had a beautiful place to recoup: a lovely balcony with a gorgeous view. And I lived vicariously through Linda, Amy and Eddie. As well as bringing stories home every evening they also brought me food, wine and gelato. Oh, and a beautiful wooden cross from Assisi.
So, even though I am a klutz, God worked everything out.

I was spared hitting my head on the corner of the pillar or landing head first and being paralyzed.

When I think of those alternatives, a hurt knee isn't so bad.

So all in all, God is good and I will be fine.

Tuscany will still be there in a few years.
During this frightening, confusing and painful experience this single gal had three other single pals to rely on.

We all need that in life.

Thanks Guys!
More highlights on Thursday…
Question:

Ever been badly hurt on a vacation and had to alter your plans a bit?