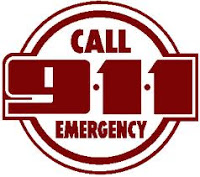 I don't know how the emergency system of calling 911 came about or who created it, but it is a pretty cool system. Call that number and police, fire trucks or an ambulance will come blaring down the street to your rescue. With nifty tracking systems they can find your location even if you can't speak to give your address or tell them what's wrong.
Yesterday at church, on the 10th anniversary of September 11th, our pastor shared another way of calling 911.
Psalm 91:1
He who dwells in the shelter of the Most High will rest in the shadow of the Almighty.
Sometimes I choose to dwell in that shelter and sometimes I don't.

It makes more sense to rest there though.

I know that.

But even when I've wondered off alone and don't know where I am, I can call out His name like a 911 call.

He knows where I am even if I can't speak or tell Him what is wrong.

He knows.
Prayers to our nation and to all who lost loved ones on 911.