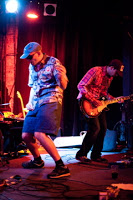 Friday night my friend Stacy and I were two wild and craaaazy single gals out on the town to hear our friend's band play. They are called Opie and if you ever have a chance to hear them you should go. However, I hope you have a more pleasant experience than we had the other night.
When we walked into the bar we saw a couple exchanging saliva rather rigorously, so we steered clear of their table. It was somewhat difficult since it was smack dab in the middle of the floor. They didn't seem to care that their tender moment of intimacy was being played out in front of everyone. I attributed that to all the empties on their table. And those made me wonder if they had just met.
Now being somewhat of a good girl (I say somewhat cuz I did have my twenties) I couldn't help thinking this behavior was a bit, well, embarrassing; disgusting; crude; high schoolish; gross! Soon their make out session began to progress more into the realm of a lap dance. Having never really seen a lap dance before, I can only assume this was one. I can also see why a man would enjoy one. This man certainly was anyway.
He was quite a bit older than his lap buddy so I'm thinking she may have been playing out some Daddy issues; which is really pretty sad when you think about it. There were also some girls dancing in front of the band. I'm sorry, but there is just not enough alcohol in the world to get me to do the "drunk white girl dance" in front of a crowd.
After standing for quite a while and spilling my drink on my shoe we finally gave in and took the only two chairs left in the room. I say gave in because they were at the lap dancers' table. There were three chairs and since they were only occupying one, we moved in. I thought if I just kept my gaze toward the stage I wouldn't notice the X-rated action on my right. But it was really hard to not look. Like when you see an accident and you just can't look away.
It was just amazing; arms were flying around and clothing was all askew. I can't really tell you what her shirt looked like but I can describe her bra in detail. I was shocked they were behaving that way in front of everyone. But then again I don't get out much.
She was in every position possible on his lap that there could be (or at least that my imagination could come up with). She was up, she was down, she was all around. She would do him in a house; she would do him with a mouse. She would do him in a box; she would do him with a fox.
We moved the table closer to us, not to give them more room, but to make it more apparent that we weren't with them. At one point he was reaching for his beer and couldn't find it, I assume because his eyes were otherwise occupied. I nicely slid the table over for him to grab his beverage. I'm nothing if not polite. After his refreshment he went back to business.
It was then that things really started to heat up. With the table further away, it gave her the leverage she apparently had been missing. She put her hands on the table and went to town. Somehow his arm came up under mine and it was then that Stacy and I grabbed our purses and joined the fans storming the stage.
I guess I am just too sheltered. And I'm okay with that. Other than the two of us no one seemed to give the lap dance couple a second thought. Or at least they didn't stare like we did. I couldn't get outside fast enough once the music was over. Ewwww.
I prefer my sheltered church girl life over public displays of lap dancing. But the music was good. Maybe I'll just stick to their CD's.
Question: My goodness, I can't even come up with a question for a blog focused on lap dancing! Got any?