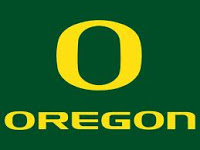 I start out watching today's Rose Bowl game with my dad at his house. I've been watching football games with him for as long as I can remember. Wisconsin and Oregon both score on their first possession; gonna be a good game. Midway through the second quarter Daddy starts feeling badly so he heads back to bed and I head back home.
I'm one-half block from my house and can't figure out why the car in front of me is stopped. Has there been an accident? Is someone crossing the street? No, it's a tree. A big, beautiful Oregon Fir tree sprawled across the busy four lane street. Surrounded by this sight, I feel like I'm in the woods and a wee bit confused. Once I realize what has actually happened I detour around the block and pull into my driveway where I find my sister, Chrystal, on the porch cleaning her windows. I tell her about the tree and she goes into full on Diane Sawyer mode for the duration of the "tree event."
During my journey home both teams seemed to have scored again. Go Ducks!
The tree has fallen on power lines which leaves some folks without the ability to watch the game. I decide to watch the rest of the game next door with a bunch of dudes.
At some point I look out the window and see Chrystal on the street chatting it up with police officers and neighbors. She texts and calls in periodically with breaking news about the status of the tree. Soon after halftime is over she reports that the fire department has arrived and chain saws have begun clearing the area of the tree. Both teams score again.
Good news, at approximately 5:14 p.m., sometime during the third quarter, traffic on the busy street resumes and life for Chrystal goes back to normal.
Towards the end, the Quarterbacks trade interceptions and the Ducks pull ahead for the rest of the game. Yea Ducks!
So now the Oregon Ducks have won their first Rose Bowl since 1917, the very year my dad was born, who, by the way, was kept up to date on the game by my mother. Maybe that's where Chrystal gets it.
Question: Did you watch the game?