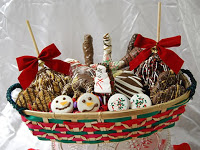 I think I ate a year's supply of chocolate over the last two weeks. Have I mentioned I love chocolate? I must have because I received lots of it as gifts. I ate every last bit as well as all the fudge and other luscious nummy-ness at parties and on the counters at school and church. I will have to work doubly hard in the new year to work it all off (she says laughingly as another Hershey kiss is plopped in her mouth).
Chocolate is always a good gift for me no matter what the occasion. But one of my favorite gifts this Christmas was from the hugs of former students as they visited church over the holidays. Some of these kids I only see once or twice a year, so as they arrive home from college with diamond rings on their left hand ring finger I see how quickly time is passing by.
It was also a great gift to watch some of my current Junior High students as they sang in the adult church choir. As one 7th grade girl I've known since Kindergarten sang out her solo among all the grownups I got all misty eyed and couldn't stop smiling.
Spending Christmas morning with my 17 year-old niece was another great gift. Watching her open her stocking, I pictured her as a little girl again with curly locks instead of the hair she works so hard now to straighten.
But, I have to say my most favorite of all, first place winning Christmas gift this year was the fact that my church partnered with a Presbyterian Church for a Christmas program mid-month and shared Christmas morning service with a Baptist congregation. Yowsa! Imagine that, different churches with differing theologies getting together to celebrate Jesus. Whee!! Suddenly a great company of the heavenly host appeared with the angel, praising God and saying, "Glory to God in the highest, and on earth peace to men on whom his favor rests." Amen and Hallelujah!
Question: What were some of your favorite gifts this Christmas?